Eggs and onions quiche recipe
This savory quiche is also a great lunch or even dinner option. Pair it will a simple salad or arugula or spinach.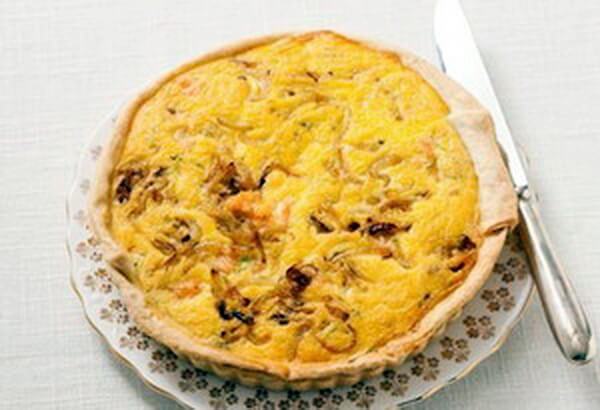 Ingredients:
1 9-inch pie shell
2 large vidalia onions, sliced
2 tablespoons butter
8 large eggs
1/2 cup milk or heavy cream
8 ounces lox or smoked salmon, chopped
2 tablespoons chopped fresh dill
1/2 teaspoon freshly ground black pepper
Directions:
First, blind-bake the pie crust. Preheat the oven to 425 F. Prick the bottom of the dough all over with fork. Place a piece of buttered aluminum foil over the dough filled with pie weights or dried beans.
Bake 10 minutes until the dough has set. Remove the foil and weights/beans, and bake for another 7-8 minutes more until the crust is slightly golden. Remove from the oven and set aside.
In a large saute pan, melt the butter over medium-high heat. Add the onions and cook, stirring constantly, until caramelized, about 15-20 minutes. Set aside.
Lower the oven temperature to 375 F. In a large bowl beat eggs, then whisk together with milk/cream, salmon, dill, and caramelized onions. Pour the custard into the prebaked pie shell.
Bake in the middle of the oven until golden and set, about 35 minutes (cover the edge of the crust with foil to protect it from overbaking). Cool slightly before serving.