Spinach Nutrition Facts & Health Benefits
Spinach is a leafy vegetable that is strongly protective against cancer. Known as a super food, spinach is nutrient-rich. Here are the nutrition facts and health benefits of spinach.
Raw spinach is 91% water, 4% carbohydrates, 3% protein, and contains negligible fat. Spinach has a high nutritional value, especially when fresh, frozen, steamed, or quickly boiled. It is a rich source of vitamin A, vitamin C, vitamin K, magnesium, manganese, iron, and folate.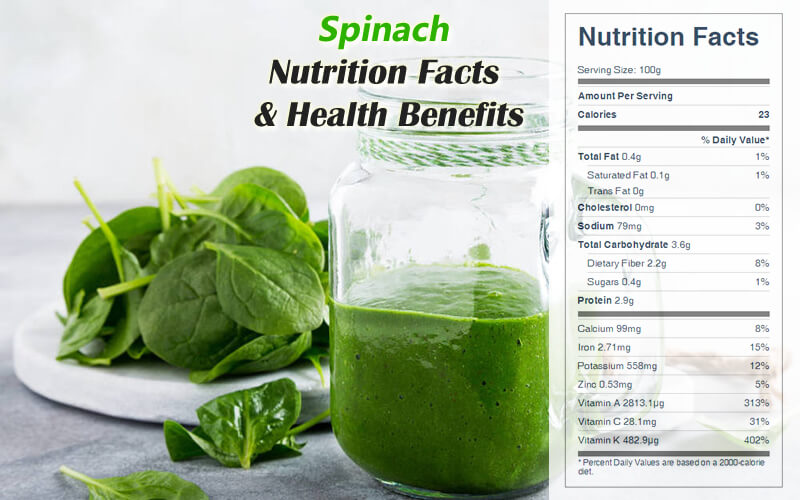 Spinach is a moderate source of the B vitamins, riboflavin, vitamin B6, vitamin E, calcium, potassium, and dietary fiber.
Spinach Nutrition Facts Label
Nutrition Facts
Serving Size: 100g
---
Amount Per Serving
Calories 23
---
Total Carbohydrate 3.6g
Protein 2.9g
---
---
* Percent Daily Values are based on a 2000-calorie diet.
Health Benefits of Spinach
Spinach is very rich in chlorophyll, so anemia patients or those suffering from fatigue and mental strain should eat plenty of it, raw, in the form of salads.
Spinach provides vitamins A, C, and K; B vitamins including folate and riboflavin; and the minerals iron, calcium, magnesium, manganese, potassium, copper, phosphorus, zinc, and selenium. Vitamin C helps the body make use of the iron found in spinach. Although cooking reduces the vitamin C, it helps make the iron more bioavailable in other ways, so spinach is a better source of iron when cooked. Consider serving it with an additional source of vitamin C to enhance iron absorption.
Spinach is also rich in antioxidants and even provides some omega-3 fatty acids. It is an excellent source of lutein, which appears to protect the eye from sun damage. People whose diets are high in spinach were found to have reduced their risk of both cataracts and age-related macular degeneration.
Cancer patients, or those at risk of cancer, such as heavy smokers, should include plenty of raw spinach in their diets, too. Cancer research is increasingly focusing on the whole spectrum of carotenoids—not just betacarotene—in dark green or brightly colored fruits and vegetables, and spinach is more highly endowed with those potential cancer-fighters than even carrots.
This vegetable is iron-rich. Although spinach is touted as being high in iron and calcium content and is often served and consumed in its raw form, raw spinach contains high levels of oxalates, which block absorption of calcium and iron in the stomach and small intestine. Cooking spinach in several changes of water reduces oxalates and improves digestion, allowing nutrients to be absorbed more completely. In addition to preventing absorption and use, high levels of oxalates remove iron from the body.
Health Risk
Spinach is one of the foods that contains measurable amounts of oxalates, so over-consumption can cause problems for those with kidney disease, gout, vulvar pain, rheumatoid arthritis, or other conditions that may require a low-oxalate diet. The oxalates in spinach may also interfere with the body's absorption of some of the minerals spinach provides, so it is best avoided by those with gout and rheumatism.