Sweet Cherries Nutrition Facts & Health Benefits
Cherries are a colorful fruit whose pigmentation packs an antioxidant punch. Sour or sweet cherries have been found to contain high levels of anthocyanins that work to neutralize free radicals and reduce inflammation. Here are the nutrition facts and health benefits of cherries.
Raw sweet cherries are 82% water, 16% carbohydrates, 1% protein, and negligible in fat. Cherries are a good source of beta-carotene, vitamin C, potassium, magnesium, iron, fiber, and folate.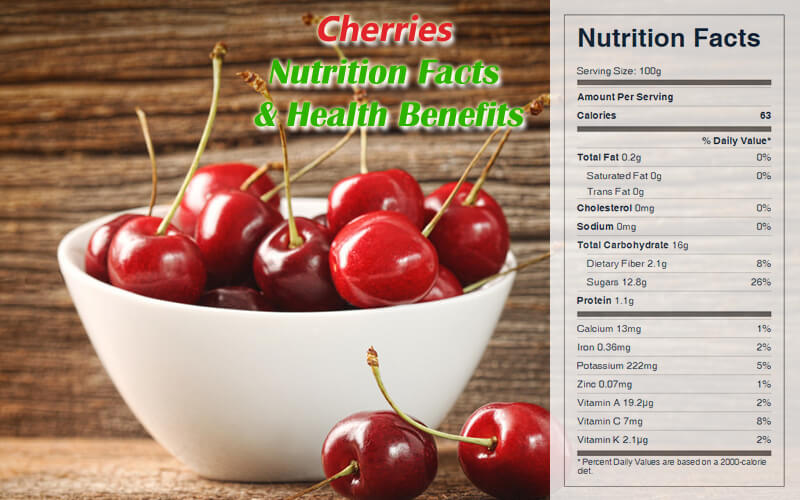 Raw Cherries Nutrition Facts Label
Nutrition Facts
Serving Size: 100g
---
Amount Per Serving
Calories 63
---
Total Carbohydrate 16g
Protein 1.1g
---
---
* Percent Daily Values are based on a 2000-calorie diet.
Health Benefits of Cherries
Cherries are incredibly nutrient dense with a significant number of micronutrients, including fiber, polyphenols, vitamin C, and carotenoids. They are also a good source of tryptophan, serotonin, and melatonin, which may help with sleep and help with jet lag. 
Cherries may be beneficial to the gut by decreasing aggressive inflammatory responses and protecting mucosal surfaces. Cherries also have an additional effect on the gut. For example, in people with low concentrations of Bifidobacterium, tart cherries demonstrated an inverse effect. Their consumption led to an increase in levels due to gut microbiota metabolism of the different polyphenols. Bifidobacterium plays a role in increasing T regulatory cells that help balance TH1 and TH2. Also, we know Bifidobacterium increases IgA production.
Cherries contain plenty of potassium and virtually no sodium, so they're excellent for anyone with high blood pressure or heart disease. They're a reasonable source of vitamin C, but they also contain significant amounts of bioflavonoids and other plant chemicals. This puts them pretty near the top of the list of protective antioxidant foods. Their ellagic acid content adds extra value to their anticancer properties.
Let's have a look at the phenolic content of cherries and how it affects chronic inflammation. Tart cherries are rich in anthocyanins and flavonols, as well as chlorogenic acid, which is also found in coffee. Studies suggest that tart cherries have a higher concentration of total phenolic compounds than sweet cherries, which contain more anthocyanins. This alters their health benefit profile. A meta-analysis examining cherries' effects on inflammation found across eleven studies that cherries demonstrated a benefit in lowering these inflammatory processes and reducing overall systemic inflammation!
Cherries have long been used for the relief of arthritis and gout. In addition, dried cherry stones make the most wonderful hot bags for muscular pain, joint disorders, and stomachaches. They taste delicious raw, cooked, juiced, or dried. Morello sour cherries are the best for cooking, and Acerola sour cherries are the most nutrient-dense.
In one study, cherries reduced total weight, body fat, inflammation, and cholesterol—all linked to an increased risk for heart disease.
Storage

Buy fresh cherries with the stems still attached. Make sure that they are clean, dry, and bright (not dull) in color.

Ripe cherries are heavy for their size.

Store them in the coldest part of the refrigerator. Cherries are especially sensitive to heat, and they can decay quickly at room temperature.

Don't wash your cherries until you're ready to eat them.