Grilled escarole and fried egg on grilled bread recipe
This recipe makes a perfect light dinner as well as a fresh breakfast. If you can't find escarole, then romaine lettuce is an easy substitute.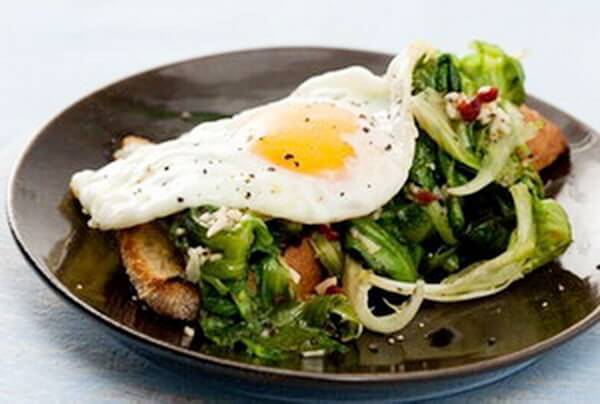 Ingredients
4 tablespoons extra-virgin olive oil, divided
4 slices rustic Italian or other artisanal bread
3 garlic cloves (2 finely chopped; 1 halved crosswise)
1 tablespoon fresh lemon juice
1/4 teaspoon hot red pepper flakes
1 (1 1/2 pound) head escarole, quartered and washed well
4 fried eggs
Directions
Brush bread with 3 tablespoons oil total. Stir together finely chopped garlic, lemon juice, pepper flakes, remaining 1 tablespoon oil, 1/2 teaspoon salt, and 1/4 teaspoon pepper. Toss escarole with dressing.
Heat a 10-to 12-inch grill pan over medium-high heat until hot, then grill bread until toasted and grill marks appear, 2 to 4 minutes. Remove toasts from grill pan and rub one side of each slice all over with cut sides of halved garlic clove. Add escarole to grill pan and cover, then cook, turning escarole occasionally, until wilted, about 4 to 6 minutes. Season with salt and pepper to taste.
Put toasts on plates and top with greens and fried eggs.