Quinoa cakes with mushrooms, bacon and sunnyside fried eggs recipe
Quinoa cakes are a healthier and heartier take on hash browns.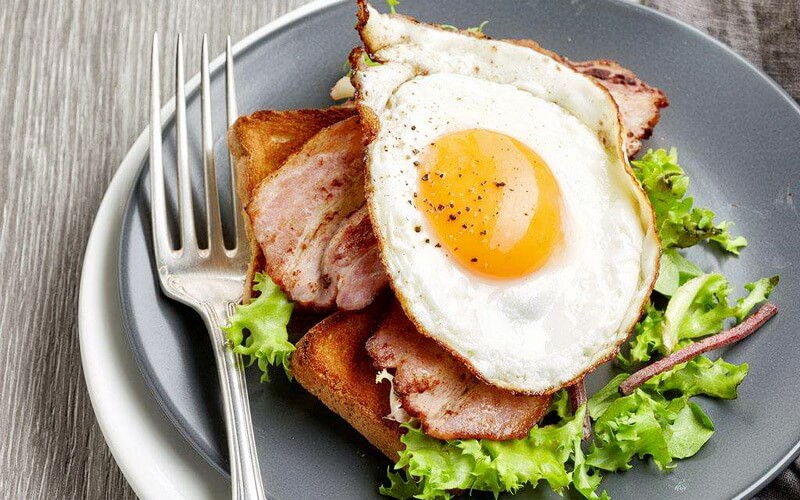 Ingredients
2 cups cooked quinoa
2 eggs, lightly beaten
1/2 cup grated Parmigiano Reggiano
1/4 cup all-purpose flour
1 clove garlic, peeled and finely grated (use a microplane of possible)
2 teaspoons Kosher salt
1/4 cup vegetable oil
4-6 strips of bacon
2 eggs, for frying
2 cups quartered white button mushrooms
1 tablespoon finely sliced chives
Directions
In a large mixing bowl combine quinoa, eggs, Parmigiano, flour, garlic, salt and pepper. Mix until well combined then form into 4 large cakes (just like crab cakes). Heat a large non-stick saute pan and add vegetable oil. Once hot, gently place cakes in the pan and cook for 6-8 minutes per side, turning regularly. Once golden brown and crispy remove from pan and set aside to drain on a paper towel. Season with salt.
Fry bacon in pan for 3-4 minutes per side until golden. Add a little more olive oil to the pan and brown mushrooms - 5-6 minutes. Season with salt and pepper. In a separate non-stick pan fry 2 eggs in a little vegetable oil, about 3-4 minutes on one side - yolks should still be soft.
To assemble, place quinoa cakes on plate, top with mushrooms, bacon slices and a fried egg. Sprinkle with sliced chives.