Glycemic Index Chart: Glycemic Values of Foods List
It is now known that some simple and complex carbohydrates in foods elevate blood glucose levels more than do others. Carbohydrates and carbohydrate-containing foods are now being classified by the extent to which they increase blood glucose levels. This classification system is called the glycemic index. Carbohydrates that are digested and absorbed quickly have a high glycemic index and raise blood glucose levels to a higher extent than those with lower glycemic index values.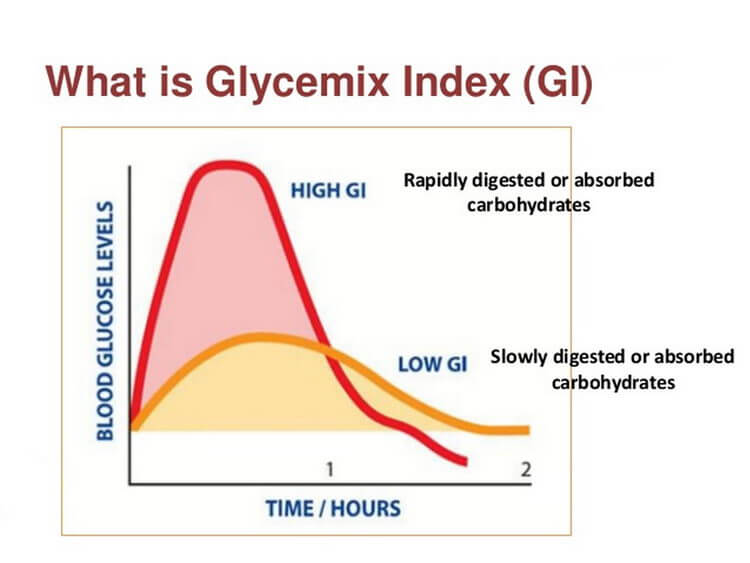 What is the Glycemic index?
The glycemic index (GI) is a number from 0 to 100 assigned to food, with pure glucose arbitrarily given the value of 100, which represents the relative rise in the blood glucose level two hours after consuming that food. The GI of a specific food depends primarily on the quantity and type of carbohydrate it contains; but also is affected by the amount of entrapment of the carbohydrate molecules within the food, the fat and protein content of the food, the amount of organic acids (or their salts) in the food, and whether it is cooked and, if so, how it is cooked. GI tables are available that list many types of foods with their GIs. A food is considered to have a low GI if it is 55 or less; high GI if 70 or more; and mid-range GI if 56 to 69.
Diets providing low glycemic index carbohydrates have generally been found to improve blood glucose control in people with diabetes, as well as to reduce elevated levels of blood cholesterol and triglycerides; increase levels of beneficial HDL cholesterol; and decrease the risk of developing type 2 diabetes, some types of cancer, and heart disease.
Dietary replacement of saturated fats by carbohydrates with a low glycemic index may be beneficial for weight control, Lowering the glycaemic load of the diet appears to be an effective method of promoting weight loss and improving lipid profiles and can be simply incorporated into a person's lifestyle.
Glycemic Index Chart for Common Foods
Food Name
GI value
High GI Foods Chart (70 and Higher)
Glucose
100
French bread
95
Scone
92
Baked Potato
85
Corn Chex
83
Pretzel
83
Rice Krispies
82
Cornflakes
81
Corn Pops
80
Gatorade
78
Jelly beans
78
Doughnut, Cake
76
Waffle, frozen
76
French fries
75
Shredded Wheat
75
Cheerios
74
Popcorn
72
Watermelon
72
Grape-Nuts
71
Wheat bread
70
White bread
70
Medium GI Foods Chart (56–69)
Breadfruit
69
Orange soda
68
Sucrose
68
Taco shells
68
Angel food cake
67
Croissant
67
Cream of Wheat
66
Quaker Quick Oats
65
Chapati
62
French bread with butter and jam
62
Couscous
61
Raisin Bran
61
Sweet potato
61
Bran muffin
60
Just Right cereal
60
Rice, white or brown
60
Blueberry muffin
59
Coca-Cola
58
Power Bar
56
Low GI Foods Chart (55 and Lower)
Honey
55
Oatmeal
54
Corn
53
Cracked wheat bread
53
Orange juice
52
Banana
52
Mango
51
Boiled Potato
50
Muesli
48
Green peas
48
Pasta
48
Carrots
47
Cassava
46
Lactose
46
Milk chocolate
43
All Bran
42
Orange
42
Peach
42
Apple juice
40
Plum
39
Apple
38
Pear
38
Tomato juice
38
Yam
37
Dried beans
25
Grapefruit
25
Cherries
22
Fructose
19
Xylitol
8
Hummus
6