Endive Nutrition Facts and Health Benefits
Endive is a leafy salad vegetable belonging to the genus Cichorium. Endive has two forms: narrow-leaved endive called curly endive and broad-leaved endive called escarole. Endives can be consumed raw or cooked.
Curly endive grows in loose heads of narrow, lacey outer leaves with curling green-rimmed tips. Inside the head is a compact heart of off-white leaves. The outer, darker leaves have a distinctive, slightly bitter flavor. The inner, lighter-colored leaves are milder in flavor and have a subtle sweetness to them with a more delicate texture.
Curly endive can mistakenly be referred to as chicory, loose-leaf chicory, chicory endive, curly chicory and frisée.
Nutritional Value of Endive
Endive contains 94% water, 3.3% carbohydrates, 1% protein, and negligible amounts of fat. Curly endive contains significant amounts of vitamin A and vitamin K as well as some folate. Additionally, it contains phosphorus, potassium, and dietary fiber, with the darker green leaves offering more nutrients than the white leaves.
In a 100-gram reference amount, raw endive supplies 17 calories, 3.35 g carbohydrate, 1.25 g protein, 0.2 g fat, 3.1 g dietary fiber, 2170 IU vitamin A, 6.5 mg vitamin C, 231 µg vitamin K, 142 µg folate, 0.9 mg pantothemic acid, 52 mg calcium, 0.83 mg iron, 314 mg potassium, 0.42 mg manganese, and 15 mg magnesium.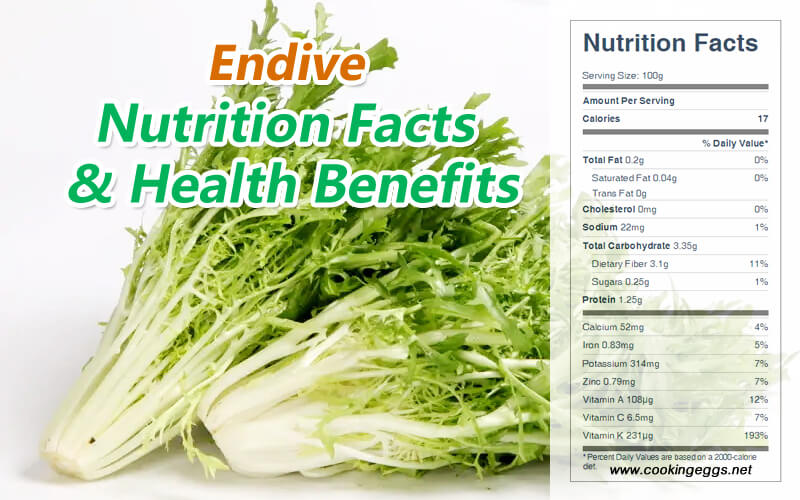 Raw Endive Nutrition Facts Label
Nutrition Facts
Serving Size: 100g
---
Amount Per Serving
Calories 17
---
Total Carbohydrate 3.35g
Protein 1.25g
---
---
* Percent Daily Values are based on a 2000-calorie diet.
Health Benefits of Endive
Endive contains a lot of vitamin K. One cup of curly endive or escarole contains 67% and 96% of the daily value for vitamin K respectively. Research suggests that vitamin K can help to support cardiovascular health and reduce the risk of osteoporosis. Vitamin K is essential for the production of six of the proteins necessary for proper blood coagulation. Endive may help with blood clotting, which is necessary for wound healing.
Endive is a good source of vitamin A; it contains more than 2170 IU of vitamin A, including 1300 mcg of beta-carotene. They aid in eye health, serving to prevent vision-related illnesses. Beta-carotene is an important antioxidant for the body, it is good for the skin, hair, nails, bones, and even vision. In addition, Vitamin A is important for the immune system because it is needed for the differentiation of cells into the various types of immune cells.
Endive is also rich in B-complex vitamins such as folate (36% of the DV), pantothenic acid (18% of the DV), thiamine (7% of the DV), riboflavin (6% of the DV), and niacin (3% of the DV). These vitamins play a vital role as cofactors in fat, protein, and carbohydrate metabolism. They are important for the health of the nervous and cardiovascular systems and for the proper functioning of the metabolism.
Endive is a source of essential minerals for the balance and proper functioning of the body, such as iron(5% of the DV), calcium(4% of the DV), potassium(7% of the DV), manganese(20% of the DV), magnesium(4% of the DV) and zinc(7% of the DV). They are important for blood circulation, strengthening muscles and bones, aiding mental and nervous health and strengthening immunity.
Endive also contains kaempferol. It is a flavonoid phytoestrogen, found in a variety of plants and plant-derived foods, including kale, beans, tea, spinach, broccoli, yellow fruits, and grapes, etc. Kaempferol has been described as having a highly potent antiinflammatory property. The compound has been reported to possess anticancer, antimicrobial, neuroprotective, antioxidant, antiallergic, and cardioprotective activities. It has an anti-toxinological role against various types of cancers. It is also involved in the regulation of metastasis, cell cycle, apoptosis, and blood vessel formation in different types of cancer cells. In view of these results, kaempferol may have clinical applications in the treatment of different cancer cells with direct inhibitory effects on the proliferation of these cells and as a support for the increase of action of another chemotherapeutic providing low toxicity.
In addition, endive is high in fiber. Dietary fiber intake provides many health benefits, such as in diabetes, obesity, and cancer. It has been recommended by the American Heart Association (AHA) as an essential component of a healthy diet. When possible, consume leafy greens such as endive and other lettuces on a daily basis. At least one-half to one cup of endive daily is prudent as part of a health-promoting diet.
Health Risk
Since endive is rich in vitamin K, it may decrease the effectiveness of anti-coagulant medications like warfarin. Individuals taking anti-coagulant medications should consult with their prescribing doctor before increasing vitamin K rich foods in their diet.