Jujube fruit Nutrition Facts and Health Benefits
Jujube also called red date, Chinese date, or Chinese jujube, is a traditionally popular fruit crop that is native to China. It has a single seed inside the fruit, a thin and edible skin surrounding whitish flesh of sweet, agreeable flavor, more closely resembling that of an apple than a date.
As it matures on the tree, it will gradually turn from a light green to a dark brown and become wrinkled, similar to figs. Under dry conditions, jujubes lose moisture, shrivel and become spongy inside. It has a very high vitamin C content. The ancient fruits are native to China, where they are prized as both a medicinal ingredient and a food source. The fruit has been used medicinally for millennia by many cultures. One of its most popular uses is as a tea for sore throats.
The Chinese date, known by the scientific name Ziziphus jujuba, is a species in the genus Ziziphus in the buckthorn family Rhamnaceae. They have been cultivated for more than 4,000 years. The plants traveled beyond Asia centuries ago and today are grown to some extent in Russia, northern Africa, southern Europe, the Middle East, and the southwestern United States. Jujubes are now available in over 400 varieties, and the fruits are also known as Chinese dates, Korean dates, Red Dates, and Tsao. Outside of Asia, jujubes are considered rare fruits that are grown as a specialty item for local markets. Li and Lang Jujubes are the two most popular varieties in cultivation in the United States.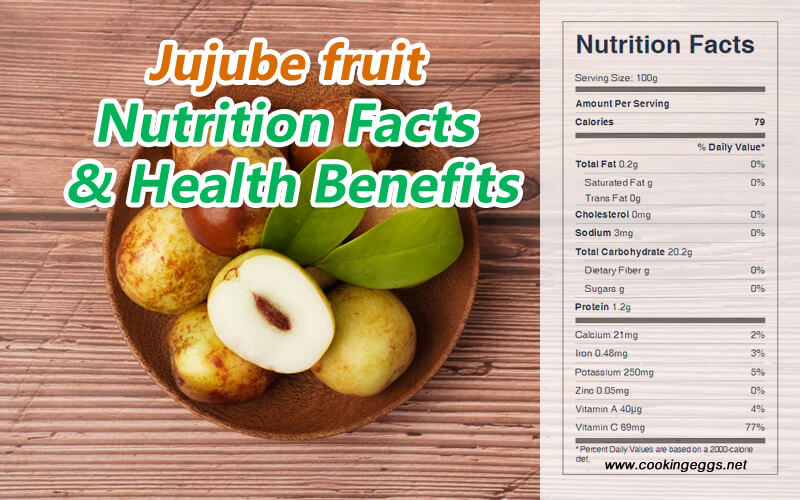 Nutritional Value of raw Jujube
Raw jujube contains 78% water, 20% carbohydrates, 1% protein, and negligible amounts of fat. Fresh jujube fruit contains significant amounts of vitamin C. Additionally, it contains iron, potassium, and dietary fiber.
In a 100-gram reference amount, raw jujube supplies 79 calories, 20.2 g carbohydrate, 1.2 g protein, 0.2 g fat, 3.1 g dietary fiber, 69 mg vitamin C, 0.9 mg niacin, 0.08 mg vitamin B6, 21 mg calcium, 0.48 mg iron, 250 mg potassium, 0.08 mg manganese, and 10 mg magnesium.
Raw Jujube fruit Nutrition Facts Label
Nutrition Facts
Serving Size: 100g
---
Amount Per Serving
Calories 79
---
Total Carbohydrate 20.2g
Protein 1.2g
---
---
* Percent Daily Values are based on a 2000-calorie diet.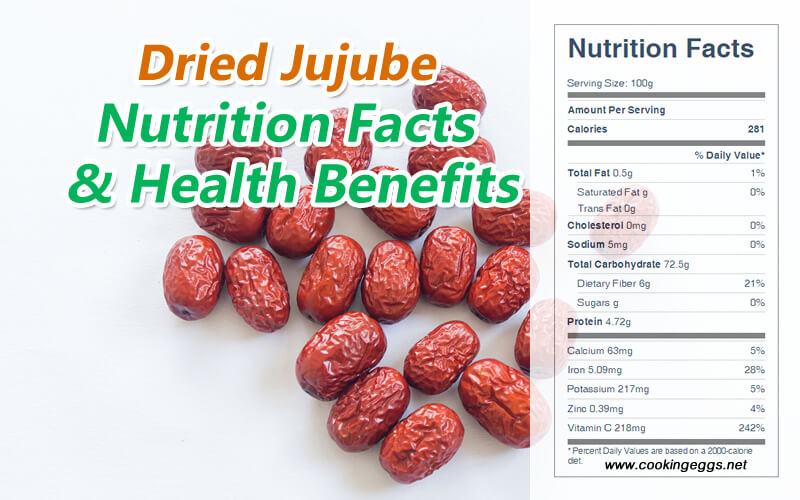 Nutritional Value of dried Jujube
Dried jujube contains 720% water, 72% carbohydrates, 4.7% protein, and negligible amounts of fat. Dried jujube contains significant amounts of vitamin C, riboflavin, and thiamine. Additionally, it contains calcium, iron, potassium, phosphorus, manganese, and dietary fiber.
In a 100-gram reference amount, dried jujube supplies 281 calories, 72.5 g carbohydrate, 4.72 g protein, 0.5 g fat, 6 g dietary fiber, 218 mg vitamin C, 0.05 mg riboflavin, 0.04 mg thiamin, 63 mg calcium, 5 mg iron, 68 mg phosphorus, 217 mg potassium, 31.1 mg manganese, and 0.39 mg zinc.
Dried Jujube Nutrition Facts Label
Nutrition Facts
Serving Size: 100g
---
Amount Per Serving
Calories 281
---
Total Carbohydrate 72.5g
Protein 4.72g
---
---
* Percent Daily Values are based on a 2000-calorie diet.
Health Benefits of Jujube fruit
Jujube fruit contains flavonoids, carotenoids, anthocyanins, amino acids, organic acids, polysaccharides, and microelements, which are useful in treating spleen diseases and nourishment of the blood in traditional medicine. It has a variety of health benefits, such as anti-inflammatory, anticancer, gastrointestinal protective, antioxidant, anti-insomnia, and neuro-protective.
Hypnotic-sedative and anxiolytic effects – Jujube leaf extract was found to contain active ingredients to soothe nerves and improve sleeping conditions. The study found that three major antioxidant polyphenols, namely quercetin, catechin, and gallocatechin, were present in the leaves. It has been used in traditional medicine for thousands of years to improve sleep, nourish the heart and soothe the nerves, and reduce hemorrhaging and diarrhea.
Jujubes are an excellent source of vitamin C, an antioxidant that strengthens the immune system and is a good source of fiber to regulate the digestive tract. In 100 gram of raw jujube and dried jujube, they contain 69 mg(77% of the DV) and 218 mg(242% of the DV) of vitamin C, respectively. Ascorbic acid can boost the immune system and have the activity of oxidation resistance.
Red dates are rich in iron, which is an essential nutrient, vital to many of the cells' activities. Most of the iron in the body is part of hemoglobin. Iron transports oxygen and carbon dioxide to and from cells, is a component of enzymes, and is vital for energy production. ATP is a part of several proteins needed for the production of ATP. Catalase is an iron-containing enzyme that protects cells from oxidative damage. In addition, several iron-containing proteins are important for drug metabolism and the immune system.
Reducing Blood Lipid – Jujube fruit is one of the medicinal plants that contains alkaloids, glycosides, saponins, flavonoids, terpenoids, and phenolic compounds. In a clinical trial involving type 2 diabetic patients, jujube improved the profile of lipid composition. The low-density lipoprotein (LDL) cholesterol, total cholesterol, and triglycerides were decreased significantly. Moreover, jujube also helps to alleviate blood glucose levels by reducing the glycosylated hemoglobin.
Jujube fruits contain many different healthy properties like minerals, including potassium to regulate fluid levels, zinc to fight off viruses, and phosphorus to help grow bones. They are also rich in bioactive compounds and can be helpful in healthy eating.
Jujubes are high in dietary fiber that has multiple beneficial effects on human health. such as improving gastro-intestinal health, increasing colonic fermentation, and short-chain fatty acid production. High-fiber foods provide bulk, are more satiating, and have been linked to lower body weight or decreased weight gain.
Dried jujube is also rich in B vitamins such as riboflavin (30% of the DV), thiamine (18% of the DV) and niacin (3% of the DV). These vitamins play a vital role as cofactors in fat, protein, and carbohydrate metabolism. They are important for the health of the nervous and cardiovascular systems and for the proper functioning of the metabolism.