Chayote fruit Nutrition Facts and Health Benefits
Chayote(Sechium edule) also called mirliton and choko, is an edible plant belonging to the gourd family. Its fruit, stems, and young leaves, as well as the tuberized portions of the roots, are eaten as vegetables, both alone and plain boiled, and as an ingredient in numerous stews.
Whether raw or cooked, chayote fruit and seeds are rich in amino acids and vitamin C. The tubers of the plant are eaten like potatoes and other root vegetables, while the shoots and leaves are often consumed in salads and stir fries. Raw chayote may be added to salads or salsas, most often marinated with lemon or lime juice, but is often regarded as especially unpalatable and tough in texture.
Nutritional Value of Chayote fruit
The edible parts of chayote have lower fibre, protein, and vitamin content than other plants. However, the calorie and carbohydrate content are high, chiefly in the case of the young stems, roots, and seeds, while the micronutrients and macronutrients supplied by the fruit are adequate. The fruit, and particularly the seeds, are rich in amino acids such as aspartic acid, glutamic acid, alanine, arginine, cysteine, phenylalanine, glycine, histidine, isoleucine, leucine, methionine (only in the fruit), proline, serine, tyrosine, threonine, and valine.
Raw chayote fruits are 94% water, 4.5% carbohydrates, and less than 1% fat and protein. They are a source of vitamins C and K. It also contains iron, zinc and potassium.
In a 100-gram reference amount, raw chayote fruit supplies 19 calories, 4.5 g carbohydrate, 0.82 g protein, 0.13 g fat, 7.7 mg vitamin C, 4.1 µg vitamin K, 17 mg calcium, 0.34 mg iron, 12 mg magnesium, 18 mg phosphorus, 125 mg potassium, and 2 mg sodium.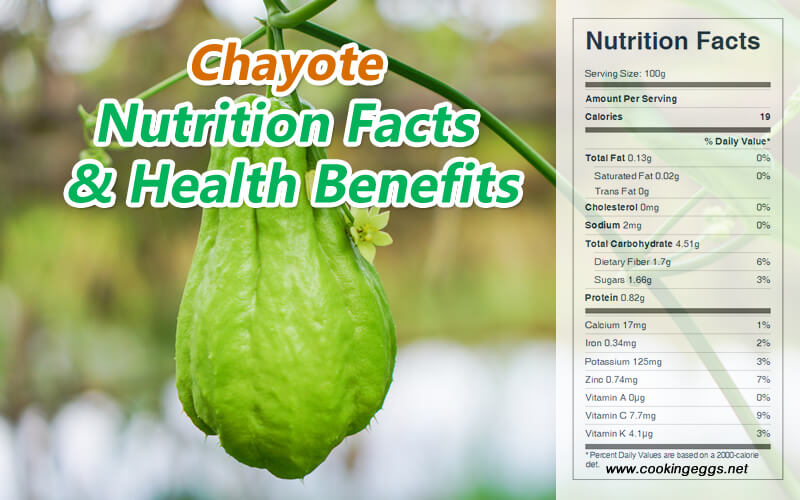 Raw Chayote fruit Nutrition Facts Label
Nutrition Facts
Serving Size: 100g
---
Amount Per Serving
Calories 19
---
Total Carbohydrate 4.51g
Protein 0.82g
---
---
* Percent Daily Values are based on a 2000-calorie diet.
Health Benefits of Chayote
As a medicinal plant, chayote leaves and fruit have diuretic, cardiovascular, and anti-inflammatory properties, and a tea made from the leaves has been used in the treatment of arteriosclerosis and hypertension, and to dissolve kidney stones. Infusions of the leaves are used to dissolve kidney stones and to assist in the treatment of arteriosclerosis and hypertension; infusions of the fruit are used to alleviate urinary retention. The cardiovascular properties of the infusions of leaves have been tested in modern studies, while their great effectiveness in curing kidney diseases has been known since colonial times on the Yucatán peninsula, where these ailments are very common.
The chayote tuber is a valuable source of starch and is comparable to traditional potato starch. Additionally, chayote starch is a good substitute for wheat flour in diverse products, which can be used by people with special nutritional requirements, such as those with celiac disease. The softness of the fruit makes it particularly appropriate for hospital diets and for giving consistency to baby foods, juices, sauces, and pasta dishes. Moreover, chayote has been processed into jams, sweet pickles, and sauces to be used as a substitute for apples in pies and tarts.
Chayote can reduce the risk of cardiovascular disease. Flavonoids present in chayote shoots were shown to decrease serum lipids and cholesterol content, preventing atherosclerosis and fatty liver, and modulate the hepatic lipid metabolism. Also, the hydroalcoholic root extracts containing cinnamic acid methyl ester, coumaric acid and vitexin exhibited antihypertensive activity. The aqueous extract of pulp and peel of chayote also exhibited a hypotensive effect.
Chayote extract was capable of reducing the plasma level of glucose and globulin. The phenolic composition, especially the flavonoids and the polysaccharide fraction, has received major attention regarding their hypoglycaemic effects; these phytochemicals may act through different mechanisms of action, including α-amylase and α-glucosidase inhibition; prevention of β-cell apoptosis; promotion of β-cell proliferation; and insulin secretion and activity. In an experimental study with diabetes-induced Wistar rats, chayote peel extract induced protection of cells against cytotoxic-SnCl2 effects, probably due to the presence of antioxidant compounds such as flavonoids and proteinases.
Chayote has antioxidant properties. Studies indicate that a diet containing antioxidant compounds can protect the human body from free radicals and retard the progress of many chronic diseases. Chayote leaf ethanolic extracts and seed aqueous extracts were reported to exhibit a strong inhibitory activity by β-carotene bleaching (antioxidant activity values of 90%) and a strong reducing effect by a linoleate model. This study suggested that flavonoids, namely flavonol, could be responsible for the antioxidant effects.
In addition, chayote can reduce body weight, adipose tissue, and regulate the hepatic lipid content. Chayote fruit aids weight loss efforts due to its low calorie and fat content. The treatment of caffeic acid and hesperetin, the main phenolic compounds of chayote shoots, inhibited the oleic acid-induced lipid accumulation in HepG2 cells and the AMP-activating protein kinase (AMPK) phosphorylates and inactivates a number of metabolic enzymes involved in ATP-consuming cellular events, including fatty acid and cholesterol synthesis.