Scallions Nutrition Facts and Health Benefits
Scallions, also known as spring onions or green onions, are vegetables in the genus Allium. Scallions can be consumed both raw and cooked, with a milder flavor than garlic or onion.
Nutritional Value of Scallions
Raw scallions are 89% water, 7% carbohydrates, 1.8% protein, and contain negligible fat. They are a good source of vitamin K and vitamin C, and they are also a source of folate, calcium, and potassium.
One cup of chopped raw scallions (100 g) provides 32 calories, 7.34 g carbohydrate, and 1.83 g protein, 0.19 g fat, 2.6 g dietary fiber, 997 IU vitamin A, 18.8 mg vitamin C, 207 mg vitamin K, 64 mcg folate, 276 mg potassium, 16 mg sodium, 1.48 mg iron, and 72 mg calcium.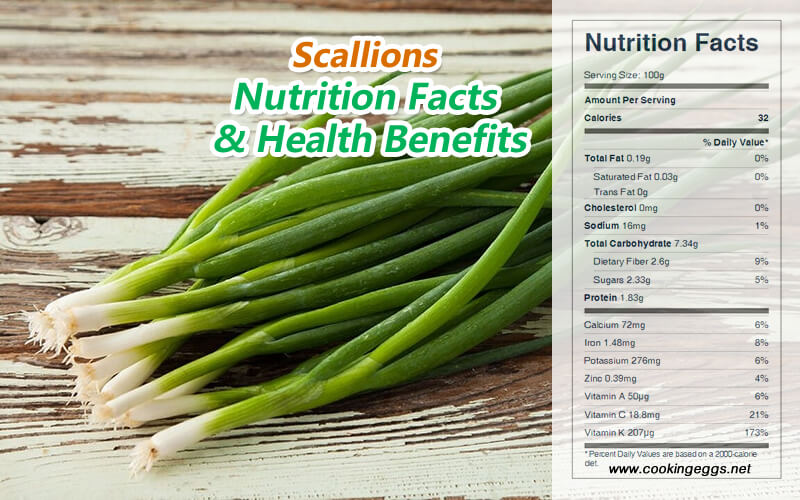 Raw Scallions Nutrition Facts Label
Nutrition Facts
Serving Size: 100g
---
Amount Per Serving
Calories 32
---
Total Carbohydrate 7.34g
Protein 1.83g
---
---
* Percent Daily Values are based on a 2000-calorie diet.
Health Benefits of Scallions
Scallions' close relatives include garlic, shallot, leek, chive, and Chinese onions. Scallions naturally carry more plant-derived antioxidants and dietary fiber than their fellow bulb members.
Scallions are one of the richest sources of vitamin K. Research suggests that vitamin K can help to support cardiovascular health and reduce the risk of osteoporosis. Low levels of vitamin K have been linked with lower bone density and an increased risk of hip fracture in women. Adequate vitamin K levels in the diet significantly reduce this risk.
Scallions are a good source of vitamin C. Vitamin C is a water-soluble vitamin found in citrus and other fruits and vegetables, and is also sold as a dietary supplement. It is used to prevent and treat scurvy. Vitamin C is an essential nutrient involved in the repair of tissue, the formation of collagen, and the enzymatic production of certain neurotransmitters. It is required for the functioning of several enzymes and is important for immune system function. It also functions as an antioxidant.