Rambutan Nutrition Facts & Health Benefits
Rambutan (Nephelium lappaceum) is a tropical fruit that originated in Southeast Asia. It is also known as "hairy fruit" because of its red spiny or hairy appearance. Rambutan fruit have a thin reddish or orange-yellow rind covered with thick, coarse hairs or long, soft spines on the surface. It is about the size of a small hen's egg with a seed, a hairy peel with long, soft spines, an edible aril with the texture of a juicy, translucent aril, and a sweet taste with an acid pulp.
Rambutan is closely related to several other edible tropical fruits, including the lychee, longan, pulasan, and guinep, with which it shares some morphological features except its long, thick, and soft spines or hairs in its shell; its edible pulp is white, juicy, translucent, subacid-sweet flavored, also similar to litchi. The seed of rambutan fruit, like other parts of the plant, contains important bioactive components. Some research has shown that rambutan extracts can possess hypoglycemic, antinociceptive, analgesic, anti-inflammatory, CNS depressant, antibacterial, and anticancer activity.
Nutritional Value of Rambutan fruit
Rambutan fruit is 78% water, 21% carbohydrates, 1% protein, and has negligible fat. In a 100-gram reference amount, canned rambutan supplies 82 calories, 20.9 g carbohydrate, 0.65 g protein, 0.21 g fat, 0.9 g dietary fiber, 4.9 mg vitamin C, 1.35 mg niacin, 22 mg calcium, 0.35 mg iron, 42 mg potassium, 0.34 mg manganese, and 0.08 mg zinc.
Rambutan is rich in vitamins, amino acids, carbohydrates, and a variety of minerals. The edible rate is about 31%–60.2%, and the total soluble solids is about 14%–22.2%; the fruit is rich in glucose and sucrose. The citric acid content is about 0.39%-1.53%.
The pleasant fragrance of rambutan fruit derives from numerous volatile organic compounds, including beta-damascenone, vanillin, phenylacetic acid, and cinnamic acid. Its colorful rind displays diverse phenolic acids, such as syringic, coumaric, gallic, caffeic, and ellagic acids. Rambutan seeds contain equal proportions of saturated and unsaturated fatty acids, where arachidic (34%) and oleic (42%) acids, respectively, are the highest in fat content.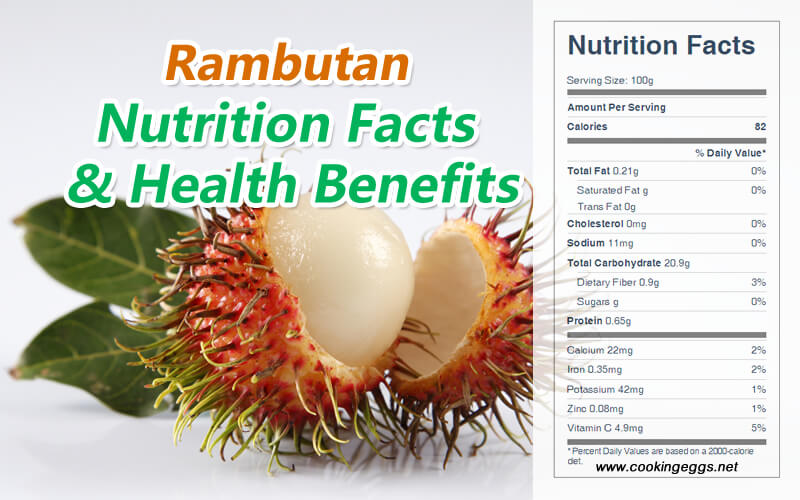 Rambutan Nutrition Facts Label
Nutrition Facts
Serving Size: 100g
---
Amount Per Serving
Calories 82
---
Total Carbohydrate 20.9g
Protein 0.65g
---
---
* Percent Daily Values are based on a 2000-calorie diet.
Health Benefits of Rambutan
Rambutan fruits (including pulp, seeds, and peels) have potent antioxidants such as corilagin, ellagic acid, β-carotene, vitamin C, and geraniin. These antioxidant constituents in rambutan fruits scavenge free radicals and thereby protect the skin against oxidative destruction. Studies have designated rambutan fruit extract to exhibit anti-aging, antioxidant, antihyperglycemic, antibacterial, and anti-virus activities.
Antioxidant Effect of Rambutan 
Rambutan contains health-promoting and bioactive polyphenolic compounds including apigenin, apigenin arabinoside glucoside, brevifolin carboxylic acid, castalagin, corilagin, p-coumaroyl glucose, ellagic acid, ellagic acid pentoside, geraniin, pelargonidin, vanillic acid, hexoside, and vitisin A. The antioxidant activity of the ethanolic and aqueous extracts from rambutan fruits demonstrated a strong correlation of antioxidant activity with the total amount of phenolic content and thus better activity of the ethanolic extract when compared with the aqueous extracts. The study showed that the ethyl acetate fraction of rambutan peel possessed the highest polyphenolic content and revealed better antioxidant activity. Rambutan peel extract has been shown to significantly increase glutathione reductase, catalase, superoxide dismutase, and lipid peroxidation levels.
Antiaging Effect of Rambutan
The ethanolic extract of rambutan peels was found to be safe in human skin fibroblasts, resulting in competent protection from oxidative damage and the action of MMP-2. It demonstrated strong antioxidant activity as well as inhibition of the tyrosinase enzyme. Thus, rambutan peel extract has been proposed as a promising candidate for incorporation into anti-aging and skin-lightening cosmetic products and can be used as a natural anti-aging agent in the pharmaceutical and food industries.
Antibacterial Effect of Rambutan 
In Malaysia, the rind residues of the fruit are dried and used in local traditional medicine to treat common fever, flu, and dysentery. Peel extracts exhibited antibacterial activity against five pathogenic bacteria. The most sensitive strain, Staphylococcus epidermidis, was inhibited by the methanolic extract. All this data indicates that the peel of rambutan may be considered potentially useful as a source of natural antioxidants for food or drug products because of its high antioxidant activity and nontoxic property to normal cells.