Rainbow Swiss chard with cranberries recipe
Rainbow chard is a green leafy vegetable, it always looks good, this a feast for the eyes, but it's actually easy on the eyes in more ways than one! Cooked chard packs a bounty of vision-protecting carotenoids, such as beta-carotene, lutein, and zeaxanthin, and 1/2 cup chard delivers 30 percent of your vitamin A needs.  As research has linked this incredible carotenoid cocktail to a reduced risk of age-related macular degeneration.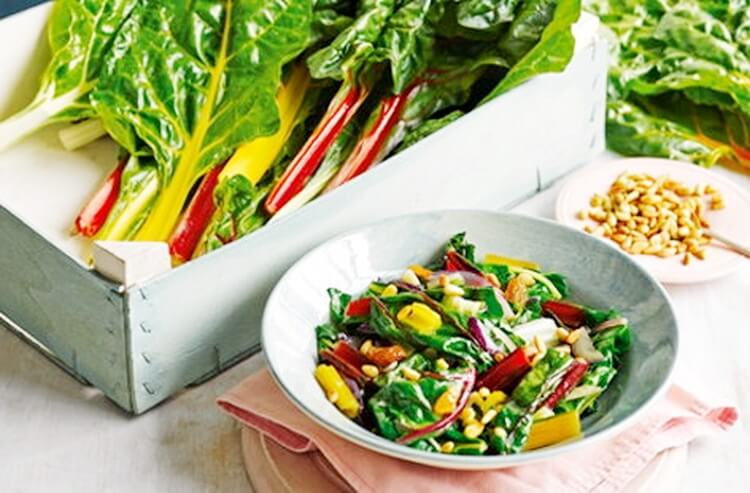 Ingredients :
1.5 lb rainbow chard
1 tbsp olive oil
3 shallots, minced
2 cloves garlic, minced
1 cup low-sodium chicken broth
1 tbsp lemon zest
1/4 cup dried cranberries
salt and pepper, to taste
6 tbsp shelled pistachios, to garnish
1. In a large, dry non-stick skillet over medium-low heat, add pistachios; toast until lightly golden, about 1 minute. Lightly chop toasted pistachios and transfer to a small container or bowl; set aside.
2. Cut the stalks off chard and strip away the leaves. Cut the stalks into 2-inch strips (if they're more than ½ inch wide, you can also slice them in half lengthwise). Chop the leaves into 2 pieces each; set aside, separate from the stalks.
3. Return the empty pan to the stove over medium heat. Pour in olive oil; once hot, add shallots and stir until slightly softened about 1 minute. Add garlic and stir constantly until fragrant, another 30 seconds.
4. Add in the chard stalks and broth, 2 tablespoons at a time, allowing it to evaporate before adding more. Stir constantly to prevent burning and cook until tender, about 10 to 15 minutes. (You may not need to add all of the broth, depending on stalk size, so taste the largest one to see when they're tender enough for your liking.)
5. When stalks are tender, add leaves, lemon zest, and cranberries; until the leaves are wilted, about 5 minutes—season with salt and pepper to taste. To serve, transfer mixture to a serving dish and garnish with toasted pistachios.