Fried egg chilaquiles recipe
The simple addition of tomatillo salsa and cojita or feta cheese transforms regular fried eggs into a zesty breakfast.
It's hard to imagine that a dish this ridiculously easy to make could be so good but it really is a winner. A purist would make their own salsa and fry up fresh corn tortillas wedges but when you're in a hurry, which most of us are, this quickie version hits the spot.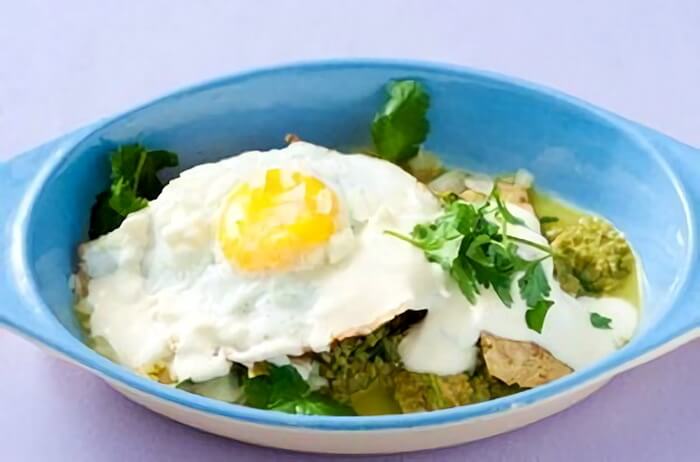 Ingredients
1 16-ounce jar tomatillo salsa
1/2 cup water
3/4 cup coarsely chopped cilantro, divided
1 quart coarsely broken good-quality plain corn tortilla chops, not baked or low-fat
4 fried eggs
1/4 cup sour cream thinned with 1 tablespoon water or milk
1/4 cup chopped white onion
1/4 cup crumbled cotija or feta cheese
Directions
Combine salsa and water in a medium saucepan and bring to a boil. Stir in ½ cup cilantro.
Add chips, stirring to coat with sauce, and cook, stirring gently, until softened but not mushy, about 1 minute. Spread chilaquiles on a platter and top with fried eggs.
Drizzle dish with thinned sour cream and sprinkle with white onion, cheese, and remaining ¼ cup cilantro.