What can be added to egg salad?
Basic egg salad is made of chopped eggs, mayonnaise and a dash of salt and pepper. If you want to try something a little different and dress up your sandwich a bit, try adding a few other ingredients to the mix.
You can add, diced red onions, garlic powder, onion powder,paprika,sliced celery, sliced spanish onions you can try any of these,cooking is an enjoyable process :)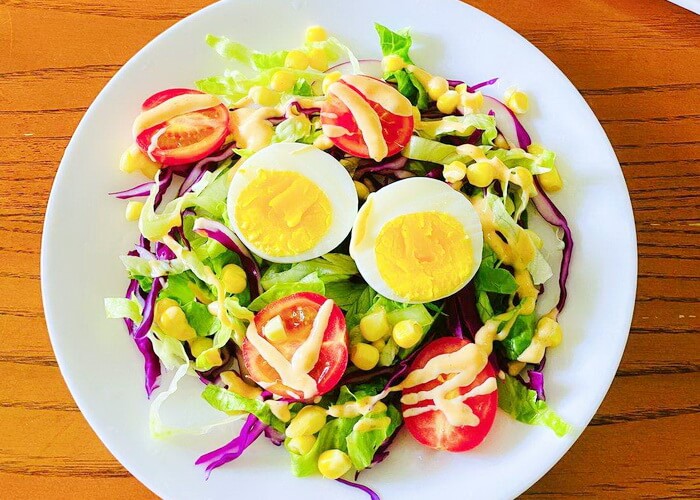 Herbs and Spices
Try adding dill, basil or cilantro to your egg salad for a savory taste, or throw in a dash of chili powder or seasoned salt to enhance the flavor.
Eat Your Veggies
Finely chopped bell peppers, onions, celery or carrots add garden-fresh taste and a satisfying crunch to your sandwich. If you don't have time to chop fresh vegetables, add 1 tsp. dried minced onion or celery seed.
Try Some Meat
Give your egg salad a protein boost by adding shredded chicken, chopped ham or flaked tuna to the recipe.
Tasty Extras
Add chopped sweet or dill pickle, green olives with pimentos, or a spoonful of mustard to your egg salad. Try using spicy mustard for an added kick.
Hold It Together
There's nothing wrong with egg salad on white bread, but it's tasty on a croissant, a bagel or on toasted rye. Not in the mood for a sandwich? Serve the salad on a lettuce leaf instead.
The Finishing Touch
Embellish your egg salad sandwich by adding lettuce, sliced tomato or a slice or two of your favorite cheese.