Sunflower seeds Nutrition Facts & Health Benefits
Sunflower seeds are more commonly eaten as a snack. Sunflower seeds will satisfy hunger and supply significant amounts of vitamin E, magnesium, and selenium, all of which are great for endurance and metabolism.
Sunflower seeds are a rich source of protein, dietary fiber, many B vitamins, and vitamin E. The seeds also contain high levels of dietary minerals, including magnesium, manganese, phosphorus, iron, and zinc.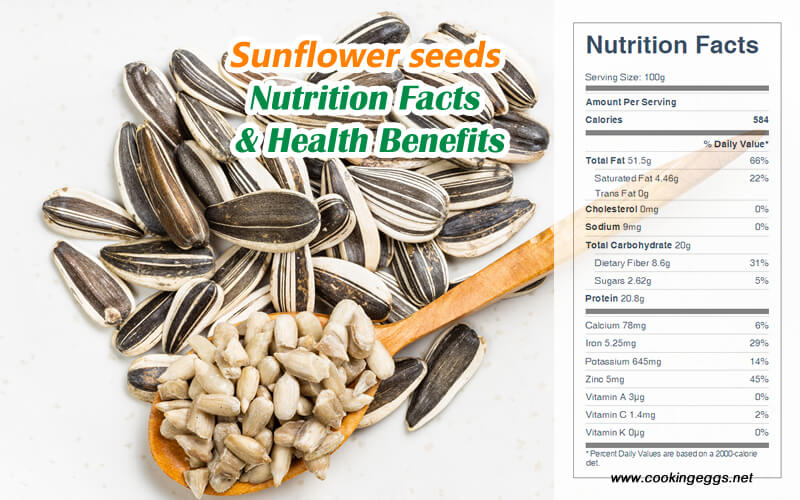 The nutritional value of sunflower seeds
In a 100-gram serving, dried whole sunflower seeds provide 584 calories and are composed of 5% water, 20% carbohydrates, 51% total fat, and 21% protein.
One ounce of unsalted dry roasted sunflower seed kernels provides 165 calories, 6.8 g carbohydrate, 5.5 g protein, 14.1 g fat, 3 g dietary fiber, 1.9 mg niacin, 2 mg pantothenic acid, 67 mcg folic acid, 241 mg potassium, 1 mg sodium, 327 mg phosphorus, 241 mg potassium, 20 mg calcium, 1.08 mg iron, and 37 mg magnesium.
One tablespoon of sunflower oil provides 124 calories, 0 g carbohydrate, 0 g protein, 14 g fat, and 0 g dietary fiber.
Sunflower seed kernels Nutrition Facts Label
Nutrition Facts
Serving Size: 100g
---
Amount Per Serving
Calories 584
---
Total Carbohydrate 20g
Protein 20.8g
---
---
* Percent Daily Values are based on a 2000-calorie diet.
Health Benefits of Sunflower seeds
As a medicinal food, sunflower seeds are antioxidant, diuretic, expectorant, and nutritive. Their high B-complex vitamin content makes them excellent for strengthening a debilitated nervous system and building kidney strength. Sunflower seeds are considered a tonic for the eyes because they decrease light sensitivity and prevent eye degeneration. They lubricate the intestines, relieve constipation, build energy, and increase sexual vigor in both men and women.
The sunflower seed and sprout possess valuable health-promoting features due to their high phenolic and flavonoid content, including antioxidant, anti-inflammatory, and antimicrobial benefits. The predominant phenolic compound in sunflower seeds is chlorogenic acid, and there are far too many flavonoids to list!
Sunflower seeds have been proven medically curative for coughs and colds, and work as expectorants to break up the mucus. As in most oilseed crops, the high levels of polyphenols work as antioxidants and prevent lipid oxidation in our cells.
Sunflower seeds are rich in vitamin E and magnesium, which also serve as excellent antioxidants. Vitamin E and magnesium also exhibit anti-inflammatory effects coupled with antioxidant benefits, which lead to a positive effect on inflammatory diseases such as rheumatoid arthritis.
Sunflower is a great source of selenium. Research has shown an inverse relationship between selenium intake and cancer development. Selenium helps with DNA repair and regeneration of cells and blocks the growth of cancer cells, leading to their death.
Sunflower is also a good source of omega-3 fatty acids, protein, and fiber. Half of a 100-gram serving is fat, mainly monounsaturated and polyunsaturated fats, principally linoleic acid. Their high linoleic acid content makes them useful in lowering cholesterol and preventing heart disease. Additionally, the seeds contain phytosterols, plant chemicals that help reduce blood levels of cholesterol while supporting hormonal health.
Sunflower oil is high in vitamin E and linoleic acid. It also contains oleic acid, lecithin, tocopherols, and carotenoids. Sunflower oil also appears to contribute to lowering cholesterol.
Sunflower seeds are also a good source of phytoestrogens. A wide range of beneficial effects of phytoestrogens on the cardiovascular, metabolic, and central nervous systems as well as a reduction in the risk of cancer and post-menopausal symptoms have been claimed.
Like pumpkin seeds, sunflower seeds are also rich in zinc, which many regard as a remedy to protect the prostate. Zinc is a key factor in prostate gland function and reproductive organ growth.
Anyway, sunflower seeds offer a full range of health benefits and can be a great addition to your diet. Eaten regularly, sunflower seeds will help to counter fatigue, depression, irritability, and lack of energy.