Pecans Nutrition Facts & Health Benefits
Pecans are a close relative of walnuts. The pecan is a species of hickory native to the southern United States and northern Mexico. The seed is an edible nut used as a snack and in various recipes.
The nutritional value of pecans 
A pecan nut is 4% water, 72% fat, 9% protein, and 14% carbohydrates.
In a 100 g reference amount, pecans provide 691 calories and are a rich source of dietary fiber (38% DV), manganese (214% DV), magnesium (34% DV), phosphorus (40% DV), zinc (48% DV), and thiamine (57% DV). Pecans are a moderate source of iron and B vitamins. The fat content of pecans is primarily composed of monounsaturated fatty acids, primarily oleic acid (57% of total fat), and polyunsaturated fatty acids, primarily linoleic acid (30% of total fat).
One ounce of raw pecans provides 190 calories, 5 g carbohydrate, 2 g protein, 19 g fat, and 2.7 g dietary fiber.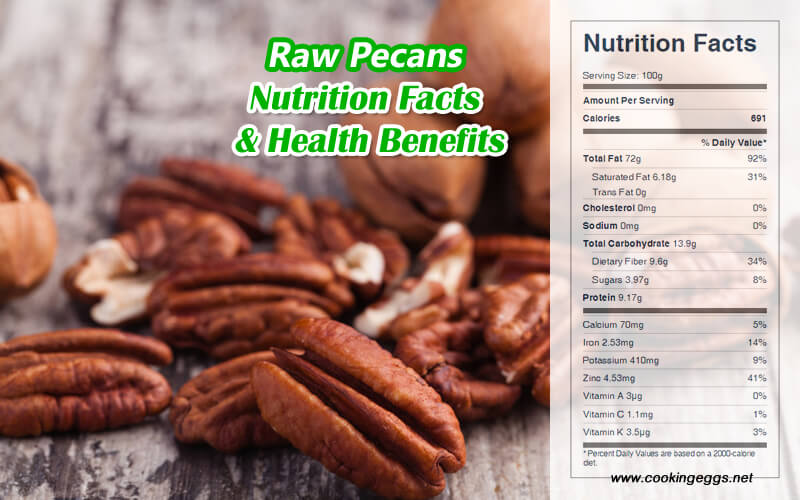 Pecans Nutrition Facts Label
Nutrition Facts
Serving Size: 100g
---
Amount Per Serving
Calories 691
---
Total Carbohydrate 13.9g
Protein 9.17g
---
---
* Percent Daily Values are based on a 2000-calorie diet.
Health Benefits of Pecans
Pecans contain approximately 71% fat.They are also a rich source of protein, minerals, and B-complex vitamins, especially vitamin B6 (pyridoxine). Pecans are considered especially nourishing for the nervous system and helpful in repairing damaged cells in cases of heart disease.
Pecans are also a great source of tocopherols, both alpha- and gamma-tocopherols. As with other nuts, the antioxidant capacity to prevent oxidation of unsaturated fatty acids is significant. In addition, ellagic acid is one of the key polyphenols in pecans, which also possess antioxidant and free radical scavenging properties.
Pecans have the highest oxygen radical absorption capacity (ORAC) among nuts, and they are high in antioxidant properties in general. The increase in antioxidant capacity of the blood seen after the consumption of polyphenol-rich (ORAC-rich) foods is not caused directly by the polyphenols, but most likely results from increased uric acid levels derived from the metabolism of flavonoids.
Due not only to their fiber but also to plant sterols, pecans also play a role in lowering cholesterol. Eating pecans may increase the metabolic rate.
The following qualified health claim has been approved by the FDA: Scientific evidence suggests but does not prove that eating 1.5 ounces per day of most nuts (such as almonds, hazelnuts, peanuts, pecans, some pine nuts, pistachio nuts, walnuts) as part of a diet low in saturated fat and cholesterol may reduce the risk of heart disease.
Pecans have one of the highest unsaturated-to-saturated fatty acid ratios of any nut, with unsaturated fatty acids reaching as high as 93 percent. Pecans are a good source of PUFAs and MUFAs, and studies have found that pecans contain more MUFAs than PUFAs. Linoleic acid (17.7 to 37.5 percent composition) is the most abundant PUFA found in pecans, and oleic acid (52 to 74 percent composition) is the most significant MUFA.
Pecans are a great source of EGCG, although not quite as high in content as green tea. Eating pecans can get you the same antiinflammatory and immune-modulating effects found in green tea. Pecans are a rich source of the polyphenol found in green tea (epigallocatechin gallate or EGCG). This polyphenol has so many benefits, both anti-inflammatory and immunemodulating. It has multiple mechanisms to reduce inflammation and modulate the immune system.