Raisins Nutrition Facts & Health Benefits
Raisins are dried grapes with many of the same properties as fresh grapes. Raisins are produced in many regions of the world and may be eaten raw or used in cooking, baking, and brewing.
The Nutritional Value of Raisins
Raisins are 15% water, 79% carbohydrates, 4% fiber, 3% protein, and contain negligible fat.
One-quarter cup of seedless raisins provides 123 calories, 32.7 g carbohydrate, 1.3 g protein, 0.2 g fat, 1.5 g dietary fiber, 0.95 mg vitamin C, 1.5 mg vitamin K, 0.32 mg niacin, 4.6 mg choline, 20.5 mg calcium, 0.78 mg iron, 13.3 mg magnesium, 41.8 mg phosphorus, and 309 mg potassium.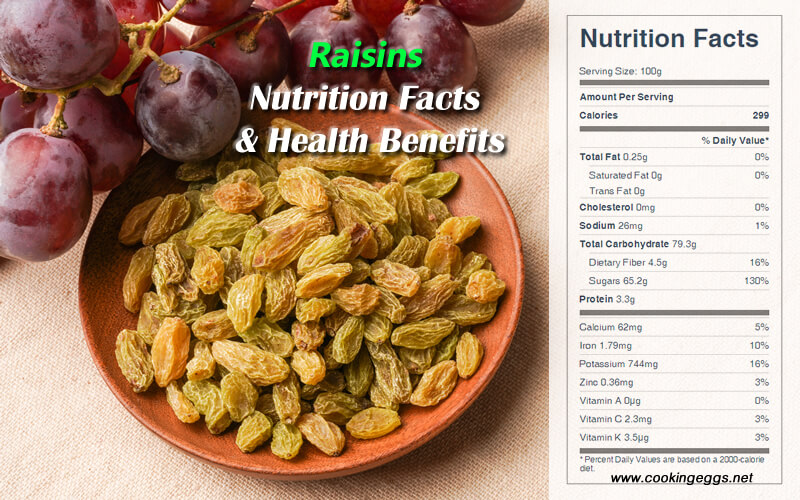 Raisins Nutrition Facts Label
Nutrition Facts
Serving Size: 100g
---
Amount Per Serving
Calories 299
---
Total Carbohydrate 79.3g
Protein 3.3g
---
---
* Percent Daily Values are based on a 2000-calorie diet.
Health Benefits of Raisins
Raisins are dried grapes. They are essentially the same fruit, as raisins are dehydrated grapes. The dehydration process induces certain compositional changes at the molecular level, specifically in total proteins, types of carbohydrates, and enzymes such as polyphenoloxidase. Raisins have been found to contain hexose furanose, whereas grapes have pentose furanose. Raisins also contain higher levels of total protein than grapes. The enzyme, polyphenoloxidase, which is present in grapes, does not occur in raisins.
Raisins are nearly 80 percent carbohydrate, most of which is sugar, but they also provide significant fiber, as well as minerals like potassium, calcium, and fluoride.
Raisins are a perfect energy food. They're rich in fiber to help reduce cholesterol and improve bowel function, and also in iron, with a large handful providing more than 25 percent of the RDA of this nutrient for women. They also contain selenium and potassium, which help to prevent fluid retention and reduce blood pressure.
In an experiment designed to test the effectiveness of relatively minor lifestyle changes, researchers found that women who ate a cup of raisins a day for six weeks lowered their blood pressure, reduced their waist size, reduced signs of inflammation, and lowered their blood cholesterol and triglycerides.
Raisins contain small amounts of vitamins A and B. The combination of energy and B vitamins means they are helpful for anyone with depression, anxiety, and stress.
Raisins also help with oral health: Polyphenols extracted from raisins suppress the growth of some germs that attack the mouth and gums, including some that set the stage for oral cancers. Raisins also appear to be one of the main sources of boron in the American diet. This trace mineral may have a role in calcium metabolism and preventing osteoporosis.
Grapes and grape products are rich in phenolic compounds, which have demonstrated a wide range of positive biochemical and pharmacological effects on the body; they are anticarcinogenic, antiatherogenic, antiinflammatory, antimicrobial, and antioxidant.
Based on total phenols per serving, we categorized foods in the order of red grapes > raisins > tarhana > dried black plums > dried apricots > grapes > fresh paprika > fresh black plums > cherries > fresh apricots > paprika pickles > paprika pastes. They also found a high degree of correlation between total phenols and total antioxidant activity. Therefore, regular consumption of grape products would have long-term health benefits. Specifically, raisins have been found to minimize the risks of heart disease, colon cancer, and intestinal tumors. Consumption of sun-dried raisins has been found to increase fecal weight, short-chain fatty acid excretion, and decrease fecal bile acids in healthy adults in a way that has health benefits.
Health Risk
Raisins are treated with sulfur or mineral oil, which can both be removed by washing them in warm running water. Organic raisins aren't treated with these substances.
Raisins have an even higher concentration of sugar, so people with diabetes or hypoglycemia should ingest them with caution. Like other dried fruits, raisins can stick to the teeth and promote dental decay, so rinse your mouth or brush your teeth after eating them.
Because grapes and raisins contain salicylates, people with aspirin sensitivity may react adversely to them.