Pumpkin Nutrition Facts & Health Benefits
In the United States and Mexico, pumpkins and squash flowers are popular and widely available food items. Pumpkin pie is still served as part of the traditional Thanksgiving meal. Here are nutrition benefits of pumpkin.
The color of pumpkins derives from orange carotenoid pigments, including beta-cryptoxanthin, alpha and beta-carotene, all of which are provitamin A compounds converted to vitamin A in the body. Pumpkin also provides many of the B vitamins, including folate; some vitamin C; and the electrolyte minerals calcium, magnesium, and potassium. One cup of cooked mashed pumpkin also contains 2,484 mg of lutein. High in fiber, pumpkin is also somewhat sweeter than many other squashes, which allows it to be used in both sweet and savory dishes.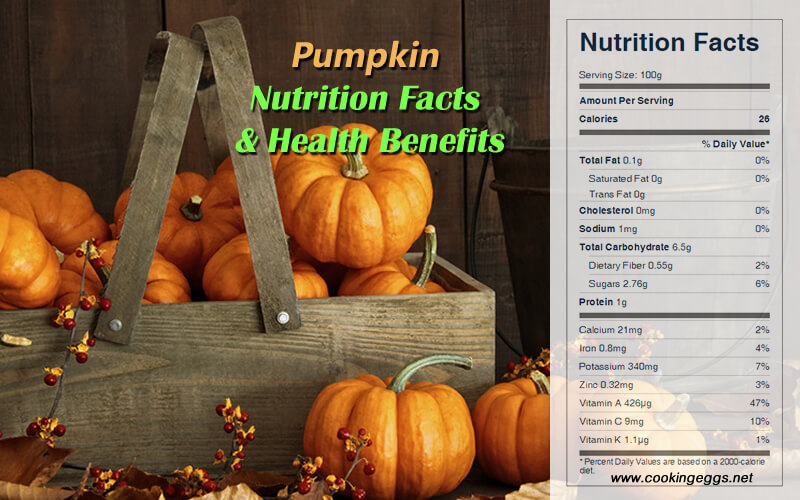 Pumpkin is 92% water, 6.5% carbohydrate, 0.1% fat, and 1% protein. It is an excellent source of provitamin beta-carotene and vitamin A.
Nutritional Composition of Pumpkin
One cup of boiled, drained, and mashed pumpkin provides 49 calories, 12 g carbohydrate, 1.8 g protein, 0 g fat, 2.7 g dietary fiber, 12230 IU vitamin A, 11.5 mg vitamin C, 1 mg niacin, 22 mcg folic acid, 0.5 mg pantothenic acid, 564 mg potassium, 2 mg sodium, 74 mg phosphorus, 37 mg calcium, 1.4 mg iron, and 22 mg magnesium.
Raw Pumpkin Nutrition Facts Label
Nutrition Facts
Serving Size: 100g
---
Amount Per Serving
Calories 26
---
Total Carbohydrate 6.5g
Protein 1g
---
---
* Percent Daily Values are based on a 2000-calorie diet.
Health Benefits of Pumpkin
Pumpkins have been used as folk medicine by Native Americans to treat intestinal worms and urinary ailments, and this Native American remedy was adopted by American doctors in the early nineteenth century as an anthelmintic for the expulsion of worms. Many cultures use pumpkin seeds as a vermifuge to help eliminate tapeworms and roundworms.
Like any other orange vegetable, pumpkins and squash are full of beta-carotene, the vitamin A precursor that helps protect us against cancer, heart troubles, and respiratory disease. In population studies, people eating plenty of pumpkin, or other orange-yellow members of the squash family, have a lower risk of developing lung cancer.
Pumpkins also support the spleen, stomach, and pancreas, thus benefiting people with hypoglycemia and diabetes.
Pumpkins are considered an antioxidant, diuretic, laxative, and immune tonic. They are believed to lower the risk of cancer, especially of the lungs, skin, and bladder. Being rich in beta-carotene, they improve respiratory health, including asthma and coughs.
The heart-shaped leaves of the pumpkin vine can be used as a tea for diarrhea or as a plaster for chills and fevers. The beautiful, delicate flowers can be administered as a tea for jaundice, measles, and smallpox. Native Americans applied mashed pumpkin topically to soothe abscesses, boils, bruises, burns, carbuncles, headaches, and sprains. The Filipinos used the sap of the pumpkin stem as an application for earaches.
Pumpkin seeds are rich in zinc and are especially strengthening for the adrenal glands and prostate gland. Pumpkin seeds were also used as folk remedies in Germany and southeastern Europe to treat irritable bladder and benign prostatic hyperplasia.
Squash seeds were also used in traditional Chinese medicine to treat the parasitic disease schistosomiasis and to expel tape worms in China.
Pumpkin seed meal represents a rich source of nutrients for poultry feeding, with significant improvements in the quality of eggs for human consumption.
Most parts of the pumpkin are edible, including the fleshy shell, the seeds, the leaves, and the flowers. In their native North America, pumpkins are an important part of the traditional autumn harvest, eaten mashed and making their way into soups and purées. Often, it is made into pumpkin pies, various kinds of which are a traditional staple of the Canadian and American Thanksgiving holidays. The seeds of pumpkin are often roasted and eaten as a snack.