Cherimoya fruit Nutrition Facts and Health Benefits
The cherimoya (Annona cherimola), also called chirimoya or chirimuya, is a subtropical fruit from the family Annonaceae. Cherimoya is grown in tropical and subtropical regions throughout the world. It is considered the best of the Annonaceae fruits.
The cherimoya fruit has a thick green peel and creamy white flesh with a custard-like consistency. When the fruit is ripe and still has the fresh, fully mature green-yellow skin color, the texture is like that of a soft-ripe pear and papaya. The fruit is fleshy and sweet, and the pulp is white in color. The low-acid flesh has a delicate, rich, aromatic flavor that resembles that of pineapple and banana. The creamy texture of the flesh gives the fruit its secondary name, the custard apple.
Nutritional Value of Cherimoya
The cherimoya fruit is rich in starch when firm but increases markedly in sugar as it softens. The main sugars are glucose and fructose. There is some phenolic content associated with an increase in the activity of peroxidase, which causes oxidation of the pulp. The volatile fraction consists of alcohol, esters, carbonyls, and hydrocarbons. Compared with other fruits, the Annona fruits contain significant quantities of vitamin C, thiamin, potassium, magnesium, and dietary fiber. The calorific value of the flesh is high and is almost double that of peach, orange, and apple.
Raw cherimoya fruit is 79% water, 18% carbohydrate, 2% protein, and 1% fat. In a 100-gram reference amount providing 75 calories, cherimoya is a rich source of vitamin B6 and a moderate source of vitamin C, dietary fiber, and riboflavin. It contains 17.7 g carbohydrate, 1.57 g protein, 0.68 g fat, 3 g dietary fiber, 12.6 mg vitamin C, 0.64 mg niacin, 0.25 mg vitamin B6, 10 mg calcium, 0.27 mg iron, 287 mg potassium, 0.09 mg manganese, and 17 mg magnesium.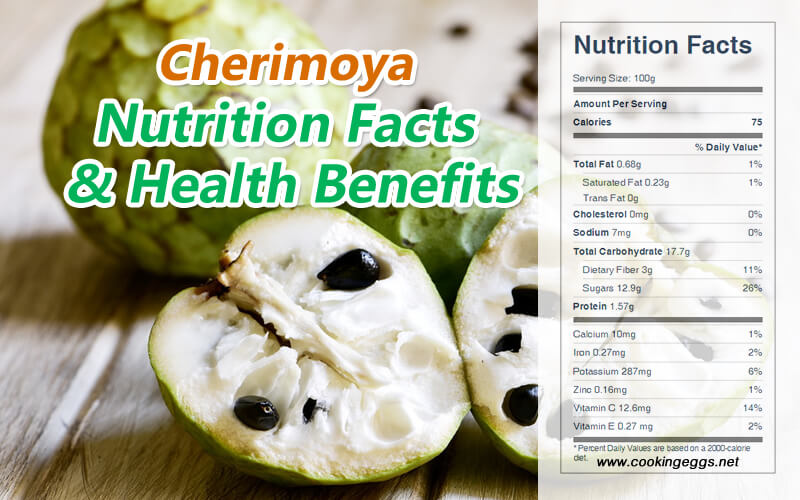 Raw Cherimoya Nutrition Facts Label
Nutrition Facts
Serving Size: 100g
---
Amount Per Serving
Calories 75
---
Total Carbohydrate 17.7g
Protein 1.57g
---
---
* Percent Daily Values are based on a 2000-calorie diet.
Health Benefits of Cherimoya
Chimioya is a rich source of polyphenolic compounds, such as acetogenins, which are powerful cytotoxins and have demonstrated in vivo antitumor, pesticidal, antipiscicidal, antihelminthic, antiviral, antimalarial, and antimicrobial properties.
Cherimoya is rich in vitamin C. It is a powerful antioxidant that helps protect the body against damage caused by inflammatory free radicals. The production of certain hormones and of neurotransmitters and the metabolism of some amino acids and vitamins require vitamin C. This vitamin also helps the liver in the detoxification of toxic substances in the system and the blood in fighting infections.
Cherimoya is high in dietary fiber that improves the health of the body's digestive system. Fiber aids in the prevention of digestive disorders such as constipation by adding volume to the stool and regulating bowel movements.
Cherimoya is one of the best plant dietary sources of vitamin B6, since a 100 g serving of this fruit provides 0.25 mg, which is 20% of recommended daily intake for this vitamin. Adequate intakes of vitamin B6 have been reported to play an important role in the prevention of immune dysfunction, CVD, inflammation, dementia, depression, cancer, and kidney stones.
The well balanced ratio of sodium and potassium in cherimoya helps in regulating blood pressure and heart rate levels. Potassium acts as a vasodilator, which means it helps to relax blood vessels, reduces the strain on the cardiovascular system, and encourages circulation and oxygenation to vital parts of the body. Potassium ions are vital for the functioning of all living cells. Studies show that foods rich in potassium help lower blood pressure and reduce the risk of stroke and cardiovascular disease.
It also contains more minerals such as magnesium, phosphorus, potassium, copper, iron, and manganese. All these minerals work together to ensure strong and healthy bones that can withstand conditions like osteoporosis.