Blueberries Nutrition Facts & Health Benefits
Blueberries are incredible plants and make delicious fruit. All berries share similar benefits, particularly for our digestive and immune systems. Listed below are the nutrition facts and health benefits of blueberries.
Blueberries consist of 14% carbohydrates, 0.7% protein, 0.3% fat, and 84% water. They contain moderate levels of the essential dietary mineral manganese, vitamin C, vitamin K and dietary fiber. A 100 gram serving provides a relatively low caloric intake with a glycemic load of 6. If you need a boost of vitamin C, one of the best things to eat are blueberries.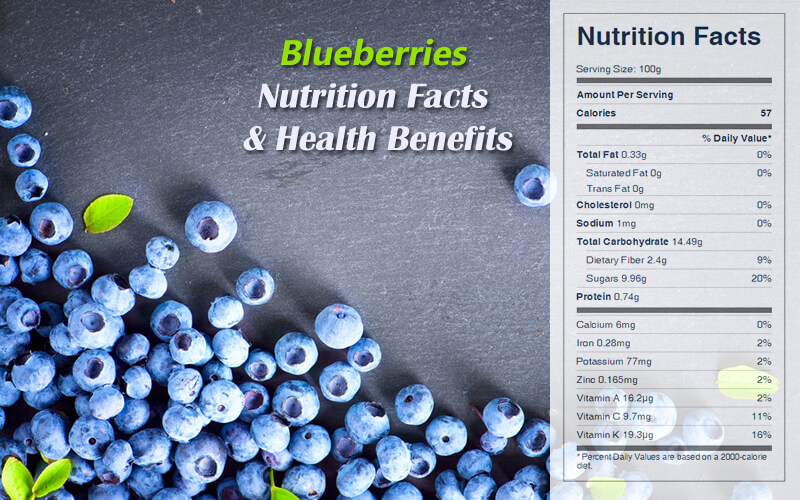 One cup of raw blueberries provides 81 calories, 20.5 g carbohydrate, 1 g protein, 0.6 g fat, 3.9 g dietary fiber, 145 IU vitamin A, 19 mg vitamin C, 9 mcg folic acid, 129 mg potassium, 9 mg calcium, 15 mg phosphorus, and 7 mg magnesium.
Raw Blueberries Nutrition Facts Label
Nutrition Facts
Serving Size: 100g
---
Amount Per Serving
Calories 57
---
Total Carbohydrate 14.49g
Protein 0.74g
---
---
* Percent Daily Values are based on a 2000-calorie diet.
Health Benefits of Blueberries
Everybody knows that blueberries are a superfood. Blueberries are particularly high in antioxidants. The health benefits of blueberries have made them one of the hottest topics in anti-aging research. A potent mix of flavonoids, tannins, and anthocyanins make blueberries one of the top antioxidant foods, ranking first among 40 antioxidant-rich fruits and vegetables. A number of studies have shown that blueberries appear to slow down and even reverse age-related neurological degeneration.
Blueberries contain anthocyanins, other polyphenols, and various phytochemicals under preliminary research for their potential biological effects. Most polyphenol studies have been conducted using the highbush cultivar of blueberries, while the content of polyphenols and anthocyanins in lowbush (wild) blueberries exceeds values found in highbush cultivars.
The high vitamin C content in blueberries means they have a high concentration of antioxidants. Blueberries may even help prevent Alzheimer's disease and other forms of dementia. Blueberries contain more antioxidant chemicals than red wine and are good for the heart and circulation.
Berries such as blueberries, blackberries, and strawberries have high levels of anthocyanins and polyphenols, which means they have wonderful antioxidant capacities. Additionally, berries can protect against irritable bowel syndrome (IBS), reduce inflammation, and strengthen our immune system.
Blueberries demonstrate the ability to increase bifidobacterium and lactobacilli in our microbiome, reduce overall inflammation, and positively affect and strengthen the adaptive immune system. There have been several studies that assess the protective effect of berries on inflammatory conditions of the gut, finding a positive inverse correlation with their ingestion.
Berries can reduce toxins produced by gastric bacteria. Blueberries, specifically, were found to decrease the presence of harmful bacteria such as clostridium, enterococcus, and E. coli. These harmful bacteria have a strong correlation to the development of inflammatory bowel disease. Polyphenol fermentation also provides benefits for our gut health: the polyphenols (anthocyanin, epicatechin, and quercetin) from berries are not absorbed in the small intestine. Instead, they are metabolized by our gut microbiome in the colon.
Blueberries also have potential as cancer fighters. Lab results show that blueberries appear to: slow down the rate of cell mutation and the growth of cancer cells; speed up cell turnover, which gives cancer cells less time to develop; reduce inflammatory agents that have been implicated in the onset of cancer; and slow down the growth of new blood vessels that nourish tumors. At Rutgers University in New Jersey, researchers have identified a compound in blueberries that promotes urinary tract health and reduces the risk of infection. It appears to work by preventing bacteria from sticking to the cells that line the urinary tract walls.