Sage Nutrition Facts & Health Benefits
Sage is an evergreen subshrub with grayish leaves and blue to purplish flowers. It has a long history of medicinal and culinary use. It has been grown for centuries in the old world for its healing properties, and was often described in old herbals for the many miraculous properties attributed to it.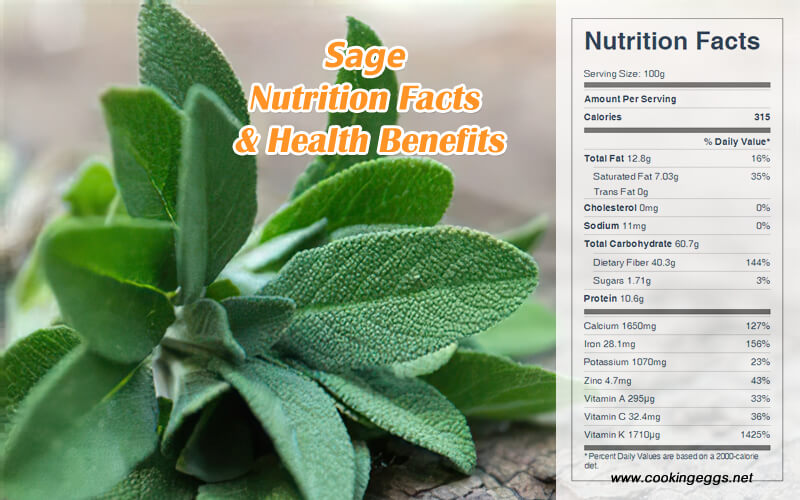 The nutritional value of sage
In a 100-gram amount, ground sage provides 315 kcal and has a high content of vitamin K, vitamin A, and vitamin C. It is also high in calcium, iron, potassium, and dietary fiber.
One teaspoon of ground sage provides 3 calories, 0.6 g carbohydrate, 0.1 g protein, 0.1 g fat, 0.4 g dietary fiber, 59 IU vitamin A, 3 mcg folic acid, 11 mg potassium, 17 mg calcium, and 4 mg magnesium.
Sage (ground) Nutrition Facts Label
Nutrition Facts
Serving Size: 100g
---
Amount Per Serving
Calories 315
---
Total Carbohydrate 60.7g
Protein 10.6g
---
---
* Percent Daily Values are based on a 2000-calorie diet.
Health Benefits of Sage
The sage had a high reputation throughout the middle ages, with many sayings referring to its healing properties and value. Sage is often used in Eastern medicine to treat inflammation, rheumatism, dizziness, ulcers, bloating, and more.
In past centuries, it was also used for hair care, insect bites and wasp stings, nervous and mental conditions, oral preparations for inflammation of the mouth, tongue, and throat, and also to reduce fevers.
Sage also acts as a stimulant to the central nervous system, making it a valuable tonic for convalescents or for those suffering from stress or nervous exhaustion. It is good for respiratory complaints, and the French make a tonic wine with it, which is ideal for those who are run down or are getting over a nasty viral infection.
Sage demonstrates a broad range of anti-inflammatory and antioxidant benefits. Sage possesses an array of phytochemicals from the stem, leaves, and flowers that produce its health-promoting effects.
The flavonoid rosmarinic acid is one of the most effective antioxidants found in sage and is well known for its anticancer benefits. The anticancer effects of this flavonoid (including apigenin, diosmetin, and luteolin) seem to be partly due to its ability to suppress reactive oxygen species and block the NF-kB signaling pathways, which leads to a reduction in pro-inflammatory cytokines. In addition, this anti-inflammatory effect is enhanced with the addition of ursolic acid. In studies, ursolic acid has been found to be twofold more potent in its anti-inflammatory capabilities than indomethacin. Indomethacin is an NSAID commonly used to reduce inflammation.
In addition, the presence of carnosol improves the radical scavenging abilities, which is comparable to alpha-tocopherol. With this enhanced antioxidant potential, sage has been reported to inhibit acetylcholinesterase activity. This is the exact mechanism by which some Alzheimer's disease drugs work, which may also directly reduce the symptoms of Alzheimer's disease.
Like rosemary, its sister herb in the mint family, sage contains a variety of volatile oils. Common sage is grown in parts of Europe for the distillation of an essential oil, although other species such as Salvia fruticosa may also be harvested and distilled with it. The essential oil contains cineole, borneol, and thujone. Sage leaf contains tannic acid, oleic acid, ursolic acid, carnosol, carnosic acid, fumaric acid, chlorogenic acid, caffeic acid, niacin, nicotinamide, flavones, flavonoid glycosides, and estrogenic substances.