Parsley Nutrition Facts & Health Benefits
Parsley is a species of flowering plant in the family Apiaceae that is widely cultivated as a herb and a vegetable. Parsley is widely used in European and American cuisines. Parsley seeds are also used in cooking, imparting a stronger parsley flavor than leaves.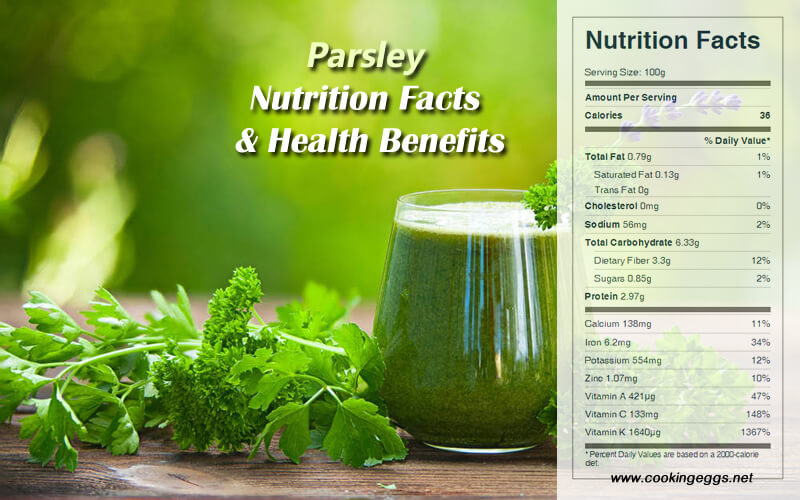 The nutritional value of parsley 
One-half cup of chopped fresh parsley provides 11 calories, 1.9 g carbohydrate, 0.9 g protein, 0.2 g fat, 1 g dietary fiber, 1560 IU vitamin A, 40 mg vitamin C, 46 mcg folic acid, 166 mg potassium, 17 mg sodium, 17 mg phosphorus, 41 mg calcium, 1.86 mg iron, and 15 mg magnesium.
Parsley is a source of flavonoids and antioxidants, especially luteolin, apigenin, folate, vitamin K, vitamin C, and vitamin A. Half a tablespoon (a gram) of dried parsley contains about 6.0 g of lycopene and 10.7 g of alpha carotene, as well as 82.9 g of lutein+zeaxanthin and 80.7 g of beta carotene. Dried parsley can contain about 45 mg/gram of apigenin. The apigenin content of fresh parsley is reportedly 215.5 mg/100 grams, which is much higher than the next highest food source, green celery hearts, providing 19.1 mg/100 grams.
Fresh Parsley Nutrition Facts Label
Nutrition Facts
Serving Size: 100g
---
Amount Per Serving
Calories 36
---
Total Carbohydrate 6.33g
Protein 2.97g
---
---
* Percent Daily Values are based on a 2000-calorie diet.
Health Benefits of Parsley
Parsley is an excellent source of beta-carotene, vitamins A, C, and K, zeaxanthin, lutein, and cryptoxanthin, as well as a good source of iron and folate. If eaten in quantities appropriate for a vegetable rather than a spice, it can provide calcium, potassium, magnesium, phosphorus, zinc, beta-carotene, and lutein. Parsley will also cleanse both your palate and your breath after a meal!
Through its antioxidant and ultraviolet light-filtering functions, zeaxanthin helps prevent age-related macular degeneration in the retina of the elderly population.
Folate is required for the body to make DNA and RNA and metabolise amino acids necessary for cell division. 100 g of parsley provides 152 g, or 38% of the daily required levels of folate. It can reduce the relative risk of cardiovascular disease.
Herbalists value parsley for its diuretic action, and parsley tea was used in the trenches in World War I for soldiers suffering from kidney complications following dysentery.
Parsley contains some interesting chemical compounds that warrant further study: volatile oils, including myristicin, limonene, eugenol, and alpha-thujene, and antioxidant flavonoids, including apiin, apigenin, crisoeriol, and luteolin. The volatile oils have shown potential to prevent the formation of cancerous tumors and may have positive effects on mood and cognition.
Parsley has also shown potential for reducing inflammation in conditions such as rheumatoid arthritis. It also helps to eliminate uric acid, making it useful in the treatment of rheumatism and gout.
In addition, Parsley is rich source of vitamin K; Vitamin K has been found to have a potential role in bone health by promoting osteoblastic activity in the bones. It also has an established role in the treatment of Alzheimer's disease patients by limiting neuronal damage in their brain.